Thirst Traps On Social Media And The Men Who Use Them!
Yesterday, I came across one of my social media follower's profile. After, he posted some pictures on Facebook. The images were explicit and very sexualized. The message, I got from looking at his photographs were thirst traps. Now. I could be wrong but if you're going to take several pictures of your ass arched up. Please make sure that this is the type of attention you are seeking. Do you think you're attracting the right kind of men? Do you think you will earn their respect like this? I don't know. But for me, I couldn't be in your shoes or position.
What makes it even worse is what he wrote in the post. It was nothing like what he displayed on his profile.
He wrote about wanting to be, loved and how men aren't shit. He went on post after post wishing that he had a bae to cuddle up with.
Just
all this extra shit right? I was over it. I kept scrolling down the timeline and read how lonely he was at night. Listen to this as you read the similar translated Facebook post he made. 
I am so lonely I do deserve love and a man who will make my dreams come true. I know I'm worthy of it. I want somebody to hold me at night and to appreciate me. Why can't I find true love? Why can't he

just

come to me? Sometimes I dream of having that perfect man even though he's somewhere out there waiting for me. I'll find true love no matter how hard I look. He will always be the man in my dreams that someday will come true. Where are you, Superman? I need you now. I can't go on another lonely night in my lonely cold bed without you. Why can't you

just

come and rescue me from my thirst trapping ways? I know I post these pictures because I'm looking for attention. All I want is attention, and these guys aren't enough.

I think

my body is beautiful in the nude and I don't know why they only want me for sex. Why can't they want me for me and not for my body? Yeah I know I'm posting it all over the internet. But someday I'll find that man who will want to fuck me. Also, he will want to love me.
That's not going to get you a "bae" that's going to get you some dack. Let me point out the fact that actual guys were commenting on this mans nudes. It seemed like every second a new comment popped up. I would refreshen the page and they came pouring in. But this is when things go entirely left. It always goes left and these guys still don't get it.
So the comments were becoming more aggressive and more 
sexually
explicit. These guys were telling him all sorts of nasty shit. I saw a few dick pics were, left in the comments. Everything was completely disrespectful. But then again he didn't see it coming.
SIDE EYE!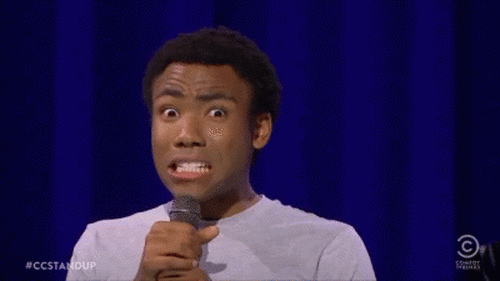 What made me cringe was his reaction to the comments. He was OFFENDED! He was BOTHERED, and he made it known. He started going off at the comments talking about "you thirsty ass ni&&as and all you hoes want is some ass and a nut." He was going LEFT as if he didn't see it coming. He acted oblivious to the entire set up and then bait and call. He placed himself out there to be, viewed explicitly. Only for him to turn around and attack the men for stating the obvious.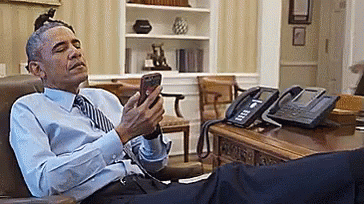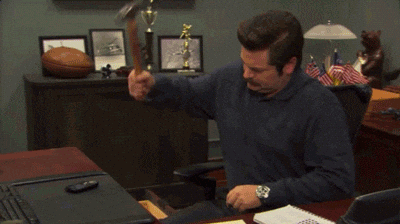 SIR… You can't get mad when you get what you ask for online. It doesn't work like that mmmkay. You have to take it back.
Delete and erase all this shit on your page and start brand new. Never make this dumb ass decision again. But you can't go off about the reactions to your ACTION. You decided to post those pictures, and now you are getting what you were
originally
asking for. which is what? Attention.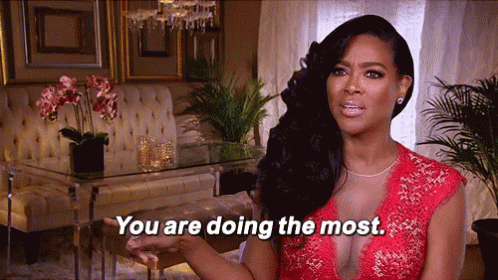 I

politely

slid in his DM's (not for the cakes his hotcakes were flat!) So I asked him was he okay?
He immediately started going off on me talking crazy. I don't do well with that type of treatment. I was trying to be positive and show my concern. I was trying to give him my advice on what I was seeing occur on his page. My opinion could have been way more harsh or also more
DIRECT.
Even with me going easy on him he took it personally. But needless to say, that ass was, what? Blocked.
You can't get mad sir when you were the one to put yourself out there like that. You got what you were looking for. If you're giving

THE LOOK, ILLUSION, THE IMAGE, etc. 

Then that is exactly what people are going to form their opinions based on the photos on your page. Then expect for gay men to think you are an easy piece of cake. So they're going to say all that stuff in your comments. They're going to feel comfortable to reveal themselves and private parts to you. This is how you are portraying yourself online.
I see this situation time and time again. It always ends up messy no matter how you cut the pie. The person who posted the image will always get in their feelings. Sad enough. They fail to realize the message they're portraying of themselves on social media.
One thing you can't do is thirst trap while using the disguise of looking for love. You're giving lust, sexual, horny realness. It doesn't work out in your favor. And no matter what you say it will look bad period.
People need to take responsibility for how they are portraying themselves online. You making these long ass facebook statuses on some boo hoo type shit. But yet, you're posting half ass naked pictures of yourself on the same damn pages! I blocked another fool last week for the same thing. I don't like contradictions. If you are going to preach against something, then don't turn around and do it.
If you are claiming you want a particular blessing don't go out seeking something else. Love and lust don't go hand in hand; it doesn't work like that. Remember you're displaying lust but crying out about wanting love. It looks silly to me.
If you're going to be all about sex, then do you. Post all the ass shots and dick rock pics your little soul desires. But don't be about something else and then get mad. When you do a call and response and the answer isn't what you wanted. You got what you wanted which was the attention and now you want to cry that you want more than that. But yet all you have done was display that side of yourself. So who would take you serious about love or getting to know you on that type of level? Who in their right mind would do that?
I wish these men stop doing that shit. It's embarrassing as fuck and I'm not the one with the nudes up. I get second-hand embarrassment every time I go down my timeline sometimes. I'm not talking about the guys who do freak videos. I'm speaking about the ones crying about not having love but doing shit like this on the regular. Like hello, sir hello. The thirst is real and you're looking thirsty. But when they get a fill-up, they get pressed. They want to huff and puff about being, disrespected and not regarded.
We can't expect for these men to respect us if we don't recognize ourselves! Do you want love darling? Then present yourself in a way that the right type of guy can find respectable. You may attract him to you. But until you change your freaky ass ways, no man at least modest man will give you any time. That's not the way to go. It isn't a good look.
You want love then show it. Because half naked pictures are not showing me, I can take you seriously at all. Who going to wanna date and fall in love with a guy who's naked? All over the damn internet? NOBODY. Enough said. Dear black gay men do better! We can't keep taking these damn L's. This is common — I see it all the damn time! Stop the foolery.
Thanks for reading! Want to have your voice heard? Well, come share your opinions on black gay topics and more. Join us in one of the latest discussions over at our new social community for gay men of color! https://gaymenincolor.com/ Looking forward to engaging with you guys over there! 😉
Facebook Comments
comments
You Love Him But He Doesn't Know How To Love Himself!
One of the most complicated relationships to be in is in a damaged toxic relationship with somebody you love more than they love themselves. A lot of drug addiction, alcoholism, chaos, self-destruction, and pain. I have been with men who flat out told me that they didn't know how to love themselves. They didn't even know where to begin that journey of self-love and recovery.
These men are sometimes abandoned and battling demons internally. They were abandoned, misused, disregarded, disowned for being themselves and by people that they depended on for love and nurturing. So once they got away from that mental and sometimes physical abuse. They started to reflect that same abuse on themselves and often times onto others who try to love them.
It's crazy how the people who show them love they mistreat and eventually push away. But the ones that hurt and has abused them they chase after for love and respect.
These men often are left feeling unworthy, depressed, battling promiscuous behavior, internalized anger, substance abuse, self-abuse and more. When a person strikes or hits on you when things go wrong its because that was a method used on them. That was the way their parents or guardians acted towards them. I see many unhealthy gay relationships due to one person being emotionally detached, unfaithful and disloyal.
It's well documented that a damaged partner and a partner who eventually becomes damaged from that relationship occurs often. At some point, a majority of people will be in some form of abuse, substance abuse, physical or in a mentally abusive relationship. The statistics show evidence of these damaged toxic relationships occurs due to many factors in either partner's childhood and upbringing background.
If nobody is seeking treatment or professional mental health evaluation then the problems will just continue on. But the biggest issue stems from these individuals lacking self-love. Why they lack it? Because they never had it to begin with. Majority of these gay men suffer from mental health due to their upbringing and their development stages.  I promise you! Every man that you come in contact with an issue of some sort regarding substance abuse, alcoholism or promiscuous unsafe sexual practices. They all suffer from lack of self-love.
You can't help them until they want to get help. No matter how you try to love them through their pain. I know I've tried many times and it has caused more harm than good. If a person doesn't want help and you find yourself hopeless, get out now! Not because you don't love them but you can't save them. They have to save themselves. If they genuinely love you they will get the help that is needed for them to love themselves first. Not because you've given up on them. But because they haven't tried to put in the work for themselves. If they become self-destructive you're going to destruct too. It may not be in the form of choices that they make but in your own unhealthy way. It's not a good situation for neither you or your partner to be stuck in.
Somebody reading this post knows this is for them. I tend to write stuff that somehow resonates with people. I'm not a psychic but I got that ability to write somebody's truth and reality. It has happened multiple of times now. For some reason, I feel like somebody may need this article today, tomorrow or maybe even next year. If this is something you're currently dealing with you need to deal with it accordingly.
If that means giving them some time alone to work on themselves then do that. I don't care how much you love him and if he loves you. If he doesn't love himself then the problems that are constantly occurring will continue to occur. It's not a healthy routine for either one of you to be in or be around. In a way, you're enabling him and he's comfortable in that place which isn't helping his own problems.
Sometimes taking a break or ending things for the moment saves a life. It could be YOUR LIFE! Because his drug use, drinking problems or even promiscuous sexual activities can harm himself and ultimately you. What becomes his problem will become yours vice versa. So you have to get him help or leave so he can get the help he needs. Sometimes they will sometimes they won't. But if it's meant for you it will work out in your favor. If it's not meant for you they won't be any good in your future.
Take heed to my advice now before it's too late. It's never too late to talk to them and if it doesn't register then go for your own sanity. Because loving somebody who can't love themselves to be healthy mentally and spiritually will be no good for you period.
To whom it may concern,
I wish you and your partner the best of luck. But if you know it's time for you to get out of that relationship DO SO SWIFTLY! BEFORE IT'S TOO LATE!
Thanks for reading! Want to have your voice heard? Well, come share your opinions on black gay topics and more. Join us in one of the latest discussions over at our new social community for gay men of color! https://gaymenincolor.com/ Looking forward to engaging with you guys over there! 😉
Facebook Comments
comments
He Treated Me Bad But Treats His New Bae Like A King!
I find it funny how a person can mistreat you and abuse your love. But the moment they find somebody else, they want to have a change of heart. He breaks up with you but treating his new bae ten times better. His new boo-thang is a king in his eyes. While you were his peasant and a nuisance to him.
You thought you got rid of a demon and now he's, unfortunately, somebody else's problem. But you find out it's quite different at least how it appears to be. He found somebody else and he damn near worships them. Now ain't that a bitch?
It doesn't matter if you thought he shitted gold. You could have catered to his every call and demand. But he has never treated you with such respect, honor, and love. All he ever did was cheat, betray and hurt you. Not saying behind closed doors he isn't showing his true colors, well at least what you remember. But it's hard to wrap your mind around his new persona.
He never looked at you with that sparkle in his eyes. He never smiled at you the way he's smiling at his new partner. In a way, it can make you bitter and question yourself. It's almost like you trying to figure out why couldn't he treat you like that? Why couldn't he do all those things for you? You're seeing a man that you don't even recognize. Aside to him that even you never had the opportunity to experience. That's the sad part.
I was in a horrible relationship years ago. One of the worst relationships thus far. I still remember some of the evil things he would say to me. He was a devil in my eyes. I've been with some demons but they didn't come close to his evil ass not even if they tried. This man was downright wrong in every way. He had his moments of being an okay boyfriend. But the other times were pure hell. I stayed for my own selfish ass reasons. We both needed each other for lessons that life hadn't taught us yet. I knew I should've been left him before spending as much time as I did. but it there was a reason for me to stay in that relationship. He even told me once that I was the first guy to tell him I loved him. Sad! I felt bad for him and maybe I wanted to save him. I tend to want to save men all the time. That's another post of its own.
When it was time for me to get out of that relationship, I did immediately. Years later, I came across him and his partner on Tumblr. It was a couples blog showcasing black gay love. This man was the happiest I've ever seen him in our whole relationship. He was an adult entertainer with only a few scenes at the time. I didn't know he did it. I was 16 and he was 18 when we got together. But he had a lot of pain and anger from his childhood and he took it out on me a lot. But his husband was handsome and I couldn't believe he was smiling. It made me cry. Yes, I cried! I always wanted to see him happy and even when I would try to make him happy, I just wasn't good enough.
I found their YouTube and personal couple Facebook page. I was shocked how much he was in love with his husband. I remember him saying he'd never get married!!! He shut that question down immediately! But today he's happily married and it made me feel so good knowing that he's finally the man that I knew he could become someday. That's when I start to think, well maybe it is possible to change. Maybe he became a better man for somebody else. Maybe life humbled him and he learned the error of his ways.
Now I can't say he's presenting this to the public but his normal self behind closed doors. I don't know how their relationship dynamic is behind closed doors. But today we're much older than we were back in 2006. He's a whole grown ass man. So I don't expect for him to do the things and act the way he did at 18.
This been on my mind all day. Just thinking how we come across so many beautiful couples. But we don't know how many people they may have heart, mistreated and done wrong to get to that point of finally doing somebody right. I'm not bitter nor I am miserable. I'm happy for my ex and his husband. I felt so blessed to see this mature man who I was once in a horrible relationship with could turn around and man up and do right by somebody else. That's a blessing for me. Some people may be bitter about it. But I'm just happy that he's finally happy. THAT'S TRUE LOVE! I honestly don't think I would have met all the other demons if he'd just been the man he is today. I can say we'd probably be married today. But that wasn't in our journey or paths.
But it's kind of sad that the one who was hurt and done wrong could still be alone and be dealing with fuck boys. While the one who was bad and evil in the relationship goes onto finding true love. But we all deserve to be happy no matter how much wrong we've done or caused others in our past. We all deserve a second chance.
Thanks for reading! Want to have your voice heard? Well, come share your opinions on black gay topics and more. Join us in one of the latest discussions over at our new social community for gay men of color! https://gaymenincolor.com/ Looking forward to engaging with you guys over there! 😉
Facebook Comments
comments
Black Gay Men And These Microwavable Relationships
These microwavable relationships need to stop. The only way we can end this nonsense is by us making better relationship choices and that starts with the men we are choosing to date. You know in the back of your mind that man ain't shit. But for some reason, you keep going back to him. You tolerate him and he knows it. He knows that he can do just about anything to you and you'll be back just as quickly as you left.
Let's say you just started dating this guy a week ago. Two months later you both already hate each other. He doesn't like the way you act in public. You don't like the way he scolds and belittles you. You both just jumped out of a previous relationship over the same thing. What's going to change before y'all breakup and carry on the same issues into another relationship?
Gay men have the tendency of jumping from relationship to relationship. Sometimes they don't even know what they're expecting out of the relationship. It's all about right now and quick satisfaction. Red signs and flags pop up. But they like to turn a blind eye to the truth. It's all an illusion for them to feel content or at least believe they're happy in love. But in reality, we all know the truth!
The truth is most of these relationships, most of the time are not legitimate relationships. You always going to have one partner that likes the other one a little bit more. Whether if it's for the free 420, rides, a place to sleep at night, clout, power etc.
These couples nowadays don't even last a whole month! I can't remember the last time I've seen or dated somebody for a whole month since breaking up with my ex some years ago. It's been problem after problem. Guys come and go like it's a damn sport.
No feelings, no concerns, no expectations!
If you're not satisfying them or if they can find a better option they leave instantly. Wash repeat, wash repeat! Breakups after breakups. Nowadays when I come across a black gay couple. I immediately question if they'll last another week. Why do I feel that way? Well, I've seen this happen constantly. These gay couples dating for a few days and wanna move quickly and move in together by the second week.
One thing I have noticed was the fact that most successful black couples aren't all over social media. They keep their relationships private! Take notes! They keep their relationship private to protect the union otherwise it's free play. These men aren't going to respect nor honor your relationship. They going to wanna fuck your man.
Time after time again these couples pop up Facebook, Twitter, YouTube, Tumblr sharing everything! Somethings they shouldn't even post online. People being FAKE leaving phony ass comments acting like they support. Meanwhile, they sitting back waiting for the relationship to fail. Waiting for their opportunity to snatch one of them up. Messy shit! Once again! Messy shit.
These men don't know how to have long-term relationships because they've never experienced it. Nowadays most relationships fail instantly. They not putting in the work to get the correct results. A relationship is not created in 12 steps. Some relationships start off complicated. But I believe if you genuinely love somebody you will make it work.
Couples wanna leave for shit that they'll deal with in just about every damn relationship after. I've never had a man not cheat on me. I've never met a man that hasn't cheated. Does that mean all men cheat? No, but that means a majority of them do and they will. So if you prepare for that you won't be shocked by the same shit. He cheated so you going to leave him and find another cheater? Or are you going to at least figure out why he cheated and what it is that makes you a contributor to him cheating? Because not all men cheat because it was a choice they wanted to make. Some men cheat because we push them to cheat. But you'll never hear that from the horse's mouth. The blame game only works one way for some. But some of us are well aware if we contributed to our men cheating.
Getting back on topic. So microwavable relationships are common nowadays. People jump in one relationship and the moment something doesn't go their way and they're on to the next. It's just a back and forth cycle. But let me say this from a very honest place. If you find yourself jumping from relationship to relationship then maybe the problem is you.
Hear me out!
A lot of these microwavable daters and individuals falling into these relationships lack self-love, self-worth, and some self-esteem. They're seeking validation in all the wrong places. The moment they fail to find it they back on the search again. But the harsh reality is the fact that they'll never find true love. Because if it doesn't start off with yourself then you won't find it in anybody else.
I know a lot of gay men who were single, complicated and difficult and they will remain that way until they humble themselves. You can't get over the rainbow with just one attempt. You have to have some love for yourself before anybody will ever think twice about loving you!
Stop going from guy to guy seeking what you can't find in yourself. All you doing is wasting your time and energy. You blocking your blessings from finding the right one. Stop getting into these microwavable relationships and find somebody that you can invest some time into building a serious committed relationship.
Check out my original blog post here! 
Thanks for reading! Want to have your voice heard? Well, come share your opinions on black gay topics and more. Join us in one of the latest discussions over at our new social community for gay men of color! https://gaymenincolor.com/ Looking forward to engaging with you guys over there! 😉
Facebook Comments
comments
Follow Me On IG | Check Out My Mini Vlogs Now!
CHECK OUT MY SHORT GAY FILM: "WHY DON'T YOU LOVE ME? SEEKING A MOTHER'S ACCEPTANCE!"
Join My Newsletter For All The Latest Articles!
Want To Be Featured In Your Own Advice Article? Based On Your Own Experience? Wanna Share With Us?
Share your story with JBA! Everything from relationships, breakups, dating, crazy hook up experiences and more. Get featured on one of my articles as I tell your story and giving my advice. Unfamiliar with my advice articles? CLICK HERE to read a previously written advice column. Anonymous submissives are accepted! Names and locations will be changed to protect all parties involved.
Vote For The Latest Polls
Loading ...
Loading ...
Loading ...
Loading ...
Loading ...
Loading ...
Loading ...
Donate To The Blog! All Cash App Donations Are Appreciated. All Donations Will ONLY Go Towards Paying For The Blog, And Making It Better!
Send me some donations! Every supporting donation will help in many ways! https://cash.me/$justbeinganthony